OpenVZ VPS Hosting Overview
With our free reseller hosting program, you can sell discounted OpenVZ Virtual Private Servers to your own customers without having to pay any startup fees, deposits or recurring charges.
Scalability is one of the most important benefits that your customers will be able to take advantage of. This means that the hosting resources will grow with your customers' sites, which will make them immune to lagging speeds and incidental downtimes.
Our powerful OpenVZ VPSs offer much bigger RAM usage quotas and guaranteed CPU time at much lower prices. Each OpenVZ VPS comes bundled with the SolusVM Admin Panel and our free Hepsia Control Panel.
You can try out the power of OpenVZ VPS hosting by getting your own VPS at a wholesale price.
Key Account Features




Dropbox Backups (with Hepsia CP)
»

ModSecurity Firewall (with Hepsia CP)
»


Dedicated Varnish & Memcached Memory (with Hepsia CP)
»



Free VPN Access (5 GB) (with Hepsia CP)
»

All plans include
Guarantees

Website Migration

No Setup Fees

1-hour Account Activation

99.9% Network Uptime

24x7x365 Technical Support

Multiple Data Centers
Free Features (with Hepsia CP)

VPN Traffic
(5 GB)

Dropbox Backups

ModSecurity Firewall

Memcached

Redis

Node.js

Varnish

InnoDB Storage Engine

Version Control (Git, SVN)
OS Options

CentOS 7 (64 bit)

Debian 9.0 Stretch (64 bit)

Debian 8.0 (64 bit)

Ubuntu 16.04 LTS (64 bit)

Ubuntu 14.04 LTS (64 bit)
Administration Options

Full Root Access (excl. Hepsia)

SSH Access
Reselling Options (with cPanel and DirectAdmin)

eNom Domain Reseller Account

ClientExec
Administration Services
Installation & Troubleshooting
- $60.00/hour
Managed Services Package - $15.00

- Weekly OS Update

- Monitoring & Rebooting

- Installation & Troubleshooting (30min)
Upgrade Services
Control Panel Installation
Hepsia Control Panel (No root access)
- $0.00/mo
Extra Dedicated IPs
1 additional IP
- $3.00/mo
Server Hardware
CPUIntel Xeon Scalable 8176/8180/6130
RAM384 GB+
DiskEnterprise-grade SSDs
CPUIntel Xeon E5 v2/v4
RAM128 GB+
DiskEnterprise-grade SSDs
An In-house Built Web Hosting Control Panel for Your VPS
If you don't know how to maintain a DirectAdmin or cPanel-powered VPS, we have solution for you - our custom built Hepsia Control Panel. This is what you get:
An easy-to-work-with point & click user interface;
Handle your VPS like you handle a cloud hosting account;
No need to bother about security updates, tweaks, backups, etc.;
Regular Operating System and Control Panel updates;
Regular incorporation of addons;
Free with each VPS;
Security Monitoring service included (you spare $10/mo);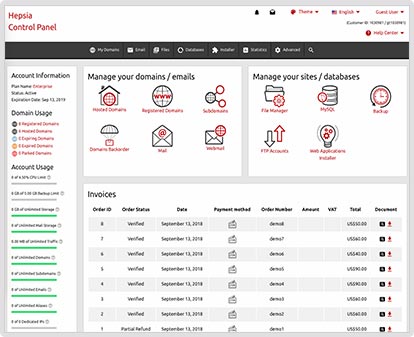 Try Hepsia CP Demo
We also provide cPanel for $10/mo and DirectAdmin for free.
OpenVZ Benefits

Routine Hardware Tests
We perform hardware stress tests in the course of seven days so as to reduce any potential threat. The first four days are dedicated to memory tests to exterminate any bad memory occurrences. Then we perform CPU tests for another two days to make sure that all CPU and motherboard elements are running well. And finally – we test the read/write performance of the SSDs.

24/7/365 Support
If you have a problem with your OpenVZ VPS, we are here to help you. For instance, if your VPS is running out of memory or is being overloaded – we will advise you how to lower the memory/CPU usage, or if you have any network problems – we will try to solve them for you. Also, we offer support for any of our pre-installed software applications. Please keep in mind that we do not support CMS/PHP script debugging.

Spare Components
We keep all types of spare server components, so we can quickly replace a corrupted component in the event of a memory / CPU / SSD / motherboard / chassis / RAID controller breakdown. We also maintain spare servers so as to quickly react in the event of more severe server issues. To minimize potential downtime, we'll simply migrate all the SSDs to a new spare server, while inspecting which component is broken and needs to be replaced.

1 GB of RAM to start with
Our starter package provides 1 GB of guaranteed RAM, so now you can freely run most applications without needing to worry about surpassing the assigned resource quota coming with your Virtual Private Server. If you run out of memory, you can enjoy a smooth transition to a more advanced package with a click. Simply order an upgrade and you will instantly get more RAM memory.

Unlimited hosted domains
On your Virtual Private Server, you can host unlimited domain names and set up unlimited databases and email accounts. With any of the available Control Panel options (cPanel, DirectAdmin or our in-house built Control Panel), you will be able to avail of unmetered resources while setting up and managing your sites, applications and marketing campaigns.

Weekly off-site backups
Every week, we will perform a complete backup of your VPS container. We'll maintain two complete backups of your website data (web files, SQL databases, emails, etc.) and of all server changes (PHP config modifications, Apache config changes, custom Apache server modules, etc.). This means that in the event of a force-majeure problem with the server, you will be able to recover any data from the past two weeks.

Low Latency Networks
The data centers that we work with are among the best in the industry. They are located on 3 different continents (North America, Europe and Australia), which guarantees a lightning-fast connection for your customers. These data centers are protected against natural disasters like earthquakes, tsunamis, tornadoes, etc., and are among the most reliable and stable suchlike facilities in the world.

Affordable prices
Our OpenVZ Virtual Private Servers offer a very good balance between quality and price. Each OpenVZ configuration offers amazing performance levels at a much lower price in comparison with other similar virtual hosting solutions on the market. Also, we constantly optimize our services' efficiency and look for ways to re-evaluate our current prices.